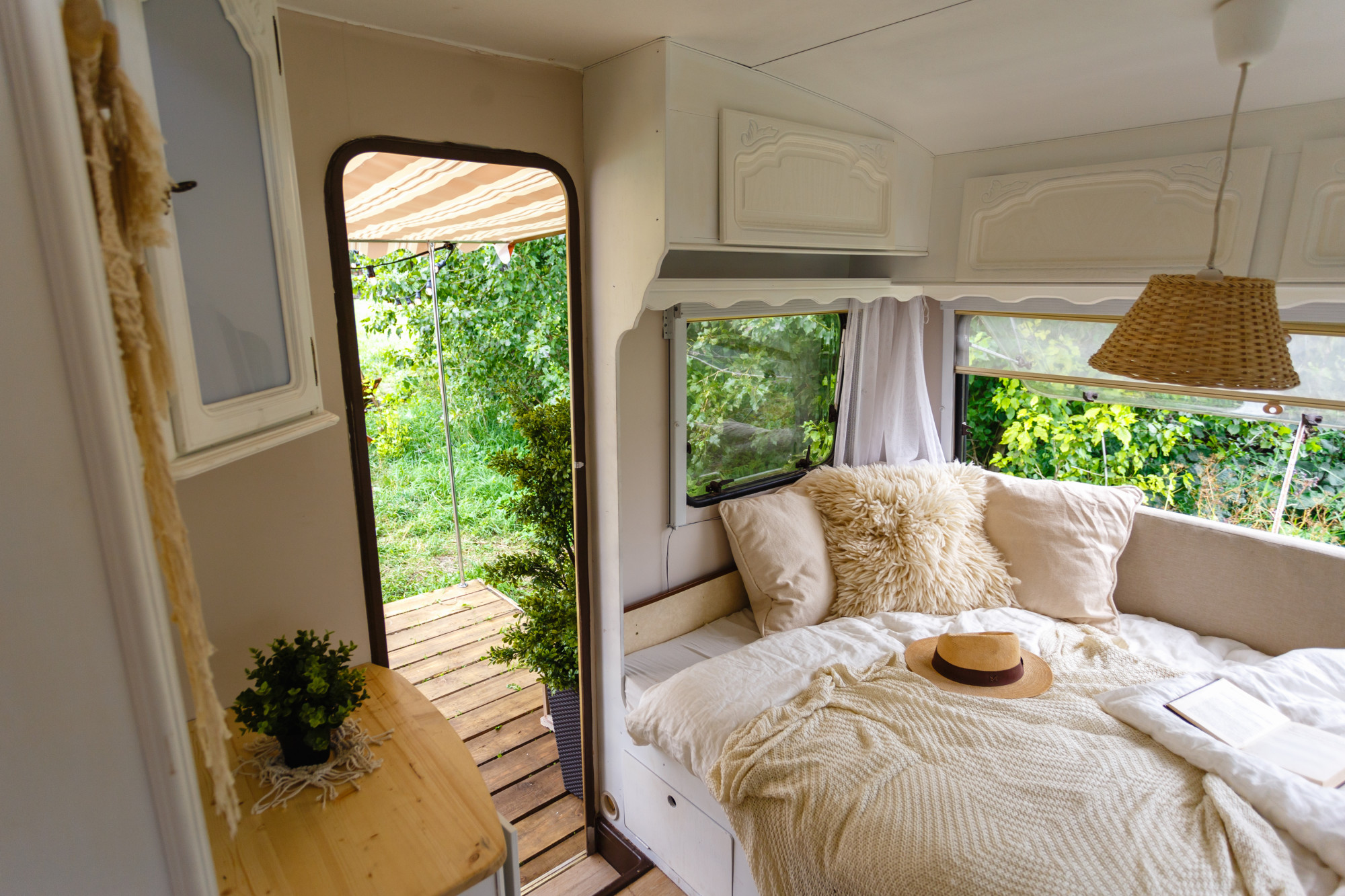 Make the Most of Your Space: 7 Clever Mobile Home Storage Ideas
With over half of all mobile homeowners living in their homes for over 10 years, it's no surprise that they start to accumulate clutter.
If you're in a similar position, you might be thinking there must be better ways to organize yourself. Lucky for you, there is.
We've listed 7 of the best mobile home storage ideas. Use this article to find the one that matches your need for storage solutions the best, and save yourself the hassle of overflowing boxes. What have you got to lose?
1. Door Shelves
If you have doors in your mobile home, they're in essence small movable sections of the wall. As with all walls in your home, you should try to make the best use of such space.
Grab yourself a variety of different shelves. By attaching these to the door, you can give yourself more places to put your belongings without needing to place them on the floor.
Also, you can make the whole arrangement more useful by using that space for things you might need every day. Put your shoes (along with your keys and your phone) on a small shelf in the middle of the door. That way, when you leave using it, you can make sure that you have everything on you.
2. Hidden Storage Seats
Your sofas and other seats don't only need to exist for sitting. Many objects in a house such as these are cushions atop a large, empty space. By making use of this space, you can ensure that your home has much more utility to it.
One of the space-saving tips for mobile homes is to find a place that sells storage and seating in one, in various forms. These might be footstools, sofas, or any number of other places to rest. You only need to make sure that it's a cushioned box with ample strength to hold a guest's weight when they choose to perch.
We'd even recommend that you look into a storage bench that has no legs. After all, what is leg space but even more unused storage area?
3. Movable Hooks
Sometimes, you need a little extra customizability in your storage solutions for a small space. You might have some guests around and need to move things to allow for their comfort. Or you might need to redecorate and as such, move things on a more permanent basis.
By using easily-adjustable hooks, such as S-hooks, you can ensure that they never need to remain in the same place. These hooks can hang over a door, on the back of a chair, or in any location where a hangable surface exists. You can even install purpose-made bars at the tops of doors or on kitchen walls to make the best use of hooks around the home.
4. Smart Shelving
While it might seem like one of the more obvious storage ideas for mobile homes, consider shelves. Shelves are the most basic way to add more space to your home and increase your storage. Wire storage shelves are very popular, as they're lightweight, allow for airflow, and need minimal cleaning.
By using wire storage shelves, you can also combine them with other storage methods. Clothes, such as pants, can hang over a wire and you can display them. Or you can hang coathangers on the wire to hold suits or other smart outfits while still using the shelves themselves.
These shelves aren't only good for clothes, but they also work for any kind of storage. This includes food, boxes, or decorations.
5. Soda Can Packs
In the pantry, it may be wise to find some of the most effective ways to store your food and other goods. One of the more popular methods is to make use of already-existing packaging you find at the store to hold other items.
As one example, you can take the cardboard boxes that you buy soda cans in and use them for any other cans. Having all your canned vegetables in one easy-to-access container can boost your speed when cooking. It can also allow for a better level of stacking than using cans alone.
Not to mention, you can paint and varnish such soda can packs to decorate your mobile home storage with the least effort.
6. Under-Bed Space
Much like with your seating, you can make use of the area under where you sleep to store more items. This may not always be possible in a mobile home, as the bed(s) you use may be temporary on a nightly basis. Still, if it is, you can look into it as another option.
Try to find drawers and boxes that you can insert or remove from underneath the bed. Those that have rollers or can hook onto the bottom of the bed itself will help.
Many shops, including those such as IKEA, can help you with mobile home storage solutions. Look into what they can offer you in this regard, as they might have some utility storage you wouldn't have otherwise expected.
7. Use Every Space
When putting your storage options together, ensure that you don't have spare wall space. If you do, remove it. Add a shelf, put a plant there, and at the very least, decorate it.
If you have any space free at the end of storing all your things, either your mobile home is too big, or you don't have enough stuff yet.
More Mobile Home Storage Ideas
We hope that the above mobile home storage ideas pique your interest. There are always more ways to organize yourself in a mobile home, and these ideas are only the start of the process. You should be able to make your home both comfortable and well-organized.
If you don't have a mobile home yet, we'd recommend you check out our site. We have advice for all levels of experience, from new buyers to experienced veterans. So check out our advice and see what we can offer you.
https://manufacturedandmobile.com/wp-content/uploads/2022/04/mobile-home-storage-ideas.jpg
1333
2000
Fritz
https://manufacturedandmobile.com/wp-content/uploads/2019/10/ManufacturedAndMobileLogo-300x101.png
Fritz
2022-04-01 21:00:01
2022-04-01 21:00:01
Make the Most of Your Space: 7 Clever Mobile Home Storage Ideas